1 tag
Kris Holden-Ried On Tumblr: Kris Holden-Ried joins... →
khronline: News out of Cannes film festival (where The Returned is being screened for buyers) is that actor Kris Holden-Ried will be joining the cast of Cut-Throats Nine remake. It's being reported that the movie, which has been in production since 2009, might finally be moving forward as "… the…
3 tags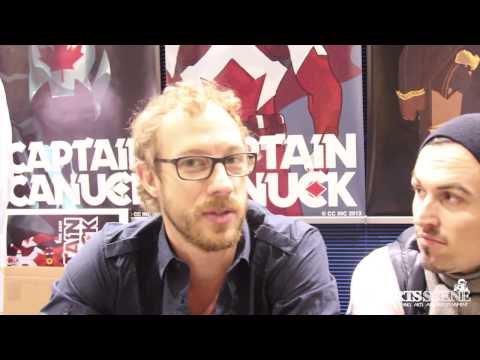 3 tags
2 tags
2 tags
The Returned trailer, English version. →
"Synopsis Kate works at the hospital in the Return Unit, helping those who have been infected by the virus that turns people into zombies. Kate's dedication to her work is absolute, but few people realize that for her it is also a personal matter; Kate's own husband, Alex, has been returned. After various brutal and prolific attacks at the hands of Anti-Return groups and rumours that the...
4 tags
A few questions with Garfield Lindsay Miller
I sent writer/director Garfield Lindsay Miller a few questions a while back that he was kind enough to answer. He is the writer of the movie A Stone's Throw, (a favorite of mine), and wrote and directed the as yet unreleased movie The Last New Year. Me: Having done one movie as the writer and another as the writer/director, which do you prefer? Are there advantages to writing a script and...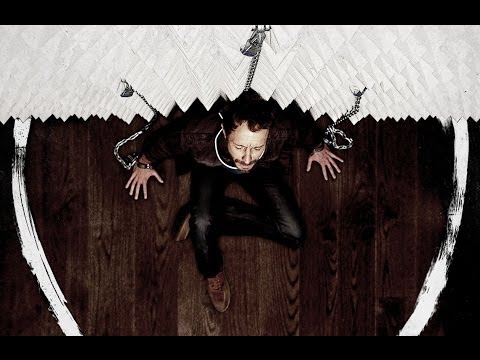 Watch
Sex After Kids trailer.
1 tag
I A.M L.I.S.E: WHO is in the Spotlight: Kris... →
whoislise: Kris Holden-Ried (@KrisHolden_Ried) Actor/ Lycan/LightFae/Fighter/Friend/Support THIS post, is a WHO is in the Spotlight well needed to be done, especially because this particular individual was able to put the category of a person who you dont see physically, but can DEFINITELY be a…
5 tags
Captain Canuck Indiegogo Campaign →
khronline: The indiegogo campaign to bring the beloved Canadian comic to "life" in a web series voiced by actor Kris Holden-Ried is now love. Paul Roger Amos will voice the villian Mr. Gold.
3 tags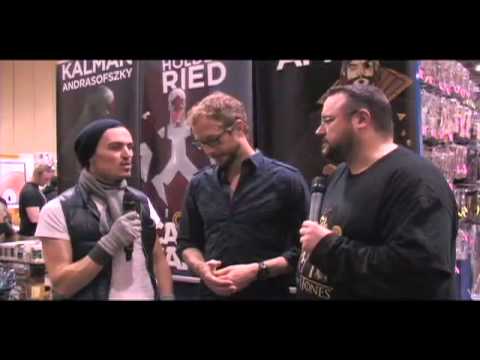 2 tags
Watch
It was announced last week that Kris Holden-Ried will be the voice of Captain Canuck. He and actor Paul Roger Amos (who will voice Mr. Gold) were at Toronto Comic-Con this weekend meeting with fans and signing posters. The show is set to air online July 1st. And according to the official twitter account @ctncanuck the series will not be geo locked. Look out world! Visit www.captaincanuck.com for...
2 tags
Best, April. A short "about unrequited love in a...
Getting cabin fever? Want to see something fun? May I suggest, if you are in the area, the Canadian Film Festival on March 20th-23rd. Especially the movie short Best, April a Diamonds to Bullets production. The movie stars Priya Rao, Kristopher Turner, Kris Holden-Ried (listed on their site as Kristopher Holden-Ried) and Shannon Barnett. Directed By Scott McCord, screenplay By Juli Strader &...
The B Plot: LOST GIRL FANS: A PLAN FOR THE US... →
hgpontv: I have a plan! And it's not a lame one like the Cylons had. Lost Girl is Canadian so I'm not sure how much ratings in the US really effect whether or not the show gets a fourth season but ratings are important if we want to be able to see it on our TVs here in the States. However, ratings are figured by Nielsen and how many people are Nielsen viewers? How many people here matter? And...
5 tags
Sex After Kids. Tagline: By Any Means Necessary.
A film by Jeremy Lalonde. A film stolen by Jeremy Lalonde's baby girl. I was lucky enough to attend a screening of the film Sex After Kids at the Royal House Theater on January 11th along with the film's director, producer, many of the cast and crew, contributors, and fans. To be fair it was a film friendly audience, but also in the crowd were a few who went in with no investment...
4 tags
The Last New Year
I was lucky enough to get my hands on a copy from the film's co-writer and director, Garfield Lindsay Miller, (who also wrote the film A Stone's Throw), a few months back. I meant to review it then but wanted to wait after I got a few questions answered by Mr. Miller. That didn't happen. Why? Well, here's the thing… to my complete horror I found my email to him with...
3 tags
The Titled Review for The Untitled Work of Paul...
Paul Sheppard is an asshole. I'm not being mean. He says so himself in the movie; and he's not completely wrong. But he's so sweetly deluded that you root for him anyhow as he goes on a self documented journey through his own love life. Paul, played by Kris Holden-Ried, enlists the help of his nephew, Phil (David Tompa), to be his cameraman. Ray (Alex Poch-Goldin), his producer,...
3 tags
Uncle Navy and Other Inherited Disorders
This is a 17 minute short that as far as I can tell was only shown at two film festivals, VIFF and TIFF. To be honest I don't understand the short film market. I've never seen a short that was released in theaters. Nor do I see many on TV. So I'm at a bit of a loss as to why they are made. But I'm grateful that they are when they are this good. Getting Uncle Navy was a goal. Yes I'm trying...
3 tags
Habitat and Going to Kansas City
I'm finding it hard to review Habitat because that requires me to think about the movie and I don't really want to do that having seen it. It's like they found a porn film's script but took out the sex and replaced it with homage to Swamp Thing. But to give the movie some conflict, they added the story of the new boy in town falling in love with the one girl in town he...
3 tags
Gossip Shared is Gossip Squared
Gossip (1999) I put the year in parenthesis because there is another movie that is also titled Gossip that I have reviewed below. This movie stars James Marsden and Leena Hedley as college students that are in a journalism class together that start a false rumor as an experiment for their thesis. With their genius artist roommate, played by Norman Reedus, the three college students have to deal...
4 tags
A Few Shorts that Are Available!
I got an email today from the Canadian Film Centre about the short Girls Who Say Yes and while browsing their site I saw Big Girl as well. Turns out, both are available for sale! Go Here To Purchase! 30 Dollars each. But the Canadian Film Centre is… …a registered charity dedicatedt o advancing the art and appreciation of film, television and new media production in Canada for the...
3 tags
Autumn Hearts aka Emotional Arithmetic
I bought this DVD off of Amazon.com used for about 44 cents, plus 2.98 for shipping and handling. It arrived about a week later in a clear plastic DVD case. For 3.42 I got a broken heart. The movie stars Susan Sarandon and Christopher Plumber as a married couple, Melanie and David Winters, living in eastern Quebec province on what is possibly the most gorgeous farm I have ever seen. Living with...
5 tags
Sexting, aka Textuality
I kind of like the original title, Textuality, so I'm not sure why it's name was changed to Sexting (presumably) for the US market. Especially since no one does any actual sexting the entire movie. There is a lot of communicating via moble devices that they use as a running theme as well a gimmick to get from one scene to the next, but that's not sexting. That's just...
2 tags
Girls Best Friend *One Spoiler & my thoughts on...
I bought this DVD direct off the LIfetime site and got it six days later in a non-descript white envelope. Once opened out slide a non-descript DVD case in almost all back except for the red LIfetime logo on front. It looks vaguely Playboy Channel like. I don't know what to think about that. The movie is not something that would ever air on the Playboy Channel. It's about a cantankerous 30...
2 tags

2 tags
Deadiest Sea *Spoilers*
True story about me: I'm kind of a sucker for the 'disaster flick'. This is basically any movie where humans are put in danger due to spectacular circumstances, like an unusually strong storm, a volcano that erupts where no volcano was before, earthquakes, asteroids, hurricanes, brush fire, ect. If a movie ends in an exclamation point, I will probably watch it with glee. My...
3 tags
A Stone's Throw DVD
As I mentioned in my semi-review, I paid a lot for my copy of the DVD on Amazon.com, even for a used copy. I assumed the price was so steep because they weren't making them anymore. After watching the movie (a few times) I realized I might want to have more copies to maybe give out as gifts for a large gift giving holiday in mid-winter. (This is not confirmation anyone is getting one. Just...
3 tags
2 tags
A Spring Killing
I'm pretty sure this was a made for TV movie and it felt like it was based on a character from a series of books. I don't know this for sure, but it just had that kind of vibe. The main character was a cop but quit the force and became a journalism professor. Naturally when a friend is found dead in a seedy motel, she sticks her nose into the investigation to the irritation of the detective on the...
3 tags
3 tags
A Stone's Throw
I took a bit of a leap of faith with this movie since I could only find it on Amazon.com and it was the most expensive DVD I've purchased that wasn't a multi-disc set with 6 hours worth of extras. A new DVD was priced at 69.99. I bought one used, and even that was 39.99. Despite the steep price I'm so glad I bought the DVD because I do not want to give it back to anyone....
3 tags
What is KHR56?
This is a self imposed "project" where by I attempt to watch every single item listed on IMDB for Lost Girl actor Kris Holden-Ried. I quote project, because other than getting the various movies, TV episodes, ect. I really don't have to do anything other than sit on my ass and watch. Real projects should involve more effort in order to really earn the word. So, if anyone has an...